For the past 3 years, the world has grappled with the challenges of the COVID-19 pandemic: lockdowns, closed schools, and students confined to their homes. This situation confused parents about their children's education, leading to an increase in demand for online learning platforms, including Abacus education.
Traditional Abacus learning, conducted in physical classrooms by trained teachers using Abacus tools, faced a shift towards online platforms. People worldwide started searching for Abacus learning platforms and portals, leading to a global phenomenon. In response to this demand, our platform Mathooz was introduced, offering highly effective Abacus Online Classes. Remarkably, the results achieved online matched those of in-person learning despite the virtual nature of the classroom.
In traditional, in-person Abacus classes, students are provided with individual Abacus tools, workbooks, and pencils. They learn to use the Abacus tool and understand bead values through demonstrations by the teacher. The teaching process includes using fingers to manipulate Abacus beads for various calculations, starting with additions and subtractions of digits 1 to 9.
Regular exams are conducted, classwork and homework are evaluated, and students receive mark sheets and certificates. Keeping the Abacus math classes engaging is crucial to ensure students complete all eight levels successfully.
Developing an Online Abacus teaching and learning portal posed the challenge of replicating the effectiveness of offline classes. This is where Mathooz helps. Mathooz is an ISO-certified company with international recognition, has trainers with many years of experience in Abacus Training across 16 countries, and has successfully transformed traditional Abacus teaching into a practical Abacus E-Learning and teaching portal. This online platform, accessible globally, has all the essential aspects of in-person Abacus classes.
Students enrolling for online Abacus learning can use cutting-edge software like AbacusAutoBeads. This advanced technology offers a user-friendly and interactive approach, providing clear insights and enhancing the learning experience.
Students can easily master Abacus skills from the convenience of their homes, eliminating the need to commute to physical Abacus centers. This time-saving approach benefits parents and students, thanks to advanced online platforms like Zoom and GoToMeeting for seamless virtual learning experiences.
Our dedicated trainers offer personalized attention to every student, utilizing the latest teaching techniques accessible through the Abacus online software. This innovative software facilitates interactive learning experiences, allowing students to receive hands-on training with the abacus in a virtual environment.
Through this platform, our trainers can pinpoint specific areas where students might be making mistakes, enabling targeted guidance and additional practice where needed.
The following steps are a typical scenario for a daily class at Mathooz.
Our approach involves instructor-led coaching, guiding students as they learn.
An integrated video conferencing feature allows teachers to monitor crucial activities such as correct finger movements and mental math techniques as instructed.
The Abacus trainers at Mathooz offer unique features like classwork assignments, homework tasks, and real-time exam evaluations, making it exceptionally user-friendly and an advanced feature under Abacus online learning.
Many online learning videos are meticulously designed to guide students through each step of the learning process.
Also, the classes are complemented by engaging Math Abacus-based video games developed in-house. These games make Abacus learning enjoyable, turning it into a playful learning experience for kids.
With a virtual abacus that is at present 24/7, students can practice at home and seek assistance whenever needed. This virtual software not only supports students but also aids teachers if they encounter challenges while solving math problems.
The learning sessions minimize dropouts, allowing students to progress effortlessly through all Abacus levels and get an Abacus course completion certificate at the end.
Having extensive experience in training students globally, we recognize the diverse IQ levels and learning capacities among our students. We customize our coaching approach to each student's understanding, providing personalized and effective learning experiences that cultivate a love for Abacus math classes.  
Our Abacus curriculum comprises eight levels, progressing from fundamental to advanced stages. This structured approach allows students to improve their Abacus math skills and advance up to higher levels by building on their existing knowledge base. 
We also encourage and insist on transparent communication with parents, offering consistent updates on their child's progress at every stages of Abacus training. We also show parents areas of improvement and offer suggestions for corrections in their child's progress, helping improve progress and development.
AbacusAutoBeads: How It Helps Mastering Online Abacus
Practice is the key to mastering the abacus!
Introducing AbacusAutoBeads, a revolutionary online abacus software tool designed to make Abacus both enjoyable and addictive. Our patented product transforms "Math phobia" into a love for math. The animated tool, inspired by ancient techniques, is an excellent brain development program.
Picture a digital abacus on your screen. It has a rectangular frame with vertical rods where beads can easily move up and down. Our online abacus software tool is special; it helps teachers and students. With this tool, students can practice, move the beads, and use a Verify Master feature to check their work—a great feature of our product.
Our online abacus tool helps students improve their skills significantly. As they progress, they learn to visualize the abacus in their minds, making calculations without using a physical tool. This boosts their speed and accuracy, sometimes surpassing what a calculator can do, which is a win-win for all.
The online abacus math tool stands out because it's visual, making learning faster and more efficient. It improves speed, accuracy, and efficiency, making it a great brain exercise. AbacusAutobeads provides a unique online abacus tool designed for online teachers and students keen on understanding the abacus. It's a perfect learning companion, increasing the hidden potential in every student. 
So what are you waiting for? To discover more about Abacus online classes, kindly schedule a complimentary demo. Take this opportunity to explore our interactive learning platform and see how it can benefit your learning journey on Mathooz. Don't miss out – book your free abacus online class demo now! 
And for any further information, feel free to drop us an email at mathooztraining@gmail.com or give us a call at +91 91761 47549. Looking forward to young learners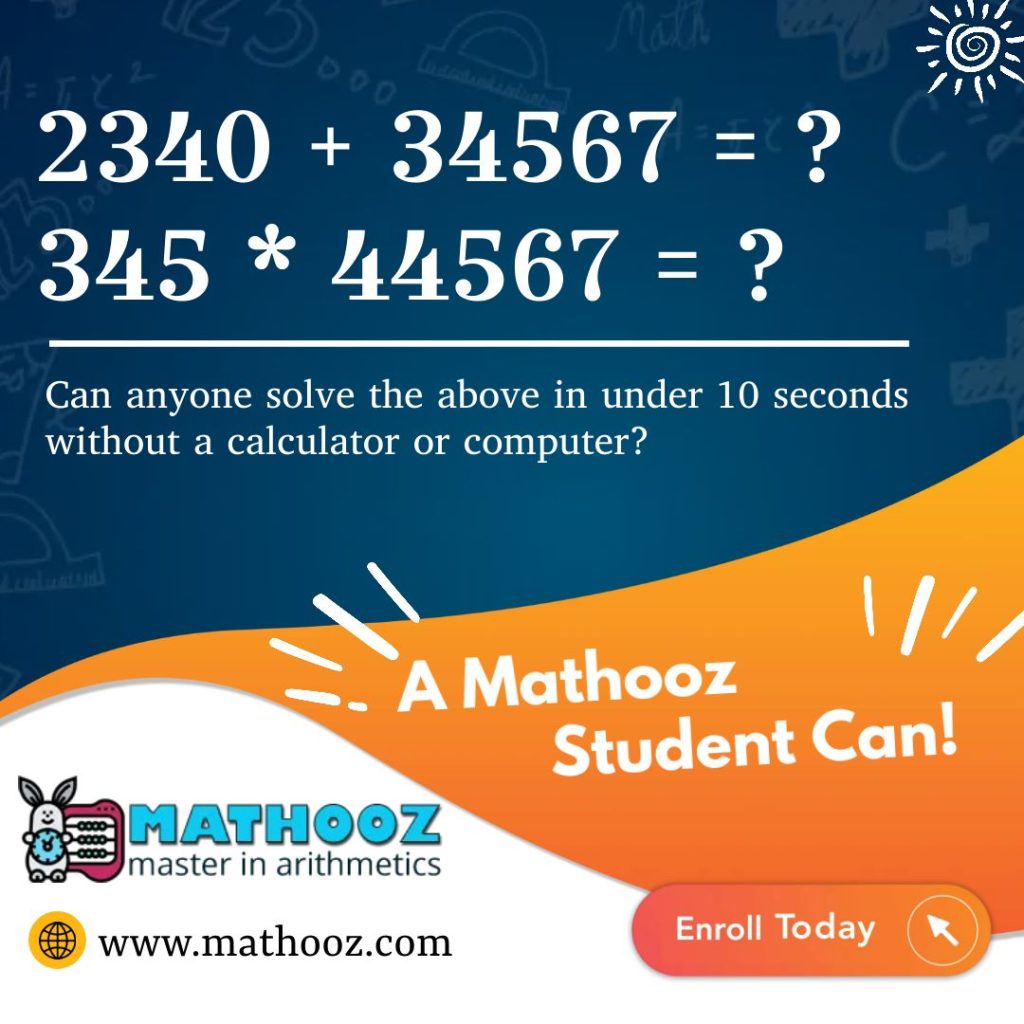 Abacus Online Classes Enquiry
Get Your Free Demo Class & Unbeatable Discount!