Are you interested in becoming an Abacus Trainer?
Love numbers and teaching?
Thinking of teaching Abacus?
Consider starting your own Abacus classes! Abacus education is in high demand, helping children improve math skills and concentration. With proper planning and after undertaking Abacus teacher training, you can start a successful business and make a difference in young learners' lives. 
Learning the Abacus has many advantages. It's not just about math; it sharpens your mental math skills and boosts concentration and critical thinking. Students gain confidence and essential life skills, while teachers find it a valuable teaching tool. Abacus training makes math more accessible and enjoyable, improving academic performance and understanding of numbers and thus benefiting learners of all ages.
As more and more parents understand the significance of a strong mathematical foundation for children, they are looking for the best way to boost that. This is where proper Abacus training comes to their rescue, leading to a significant increase in the demand for Abacus classes online and offline.
Whether it's for extra income or a passion project, teaching Abacus can be a rewarding journey. Join this growing field and help students build a strong foundation in math!
In this blog we shall dive deep into the benefits of becoming an Abacus trainer and how Mathooz can help you in this journey. So, without further ado, let's get started.
Benefits of becoming an Abacus Trainer
1. Develop Strong Mental Math Skills
Training in the Abacus is a powerful element for improving mental math skills. The Abacus isn't merely a calculating tool; it is like the mental gymnastics exercise that sharpens your mind. Regular practice and proper Abacus teacher training will teach you to perform complex calculations swiftly and accurately, relying solely on your mental faculties. These skills bolster your mathematical proficiency and equip you to impart this invaluable knowledge to other students.
2. Inspire the Next Generation
Becoming an Abacus Trainer is a noble endeavor that allows you to inspire and educate the younger generation. By using innovative and engaging teaching methods, you can train young minds, instilling a love for mathematics. As you witness your students grasp challenging concepts and excel in their studies, you'll find happiness in knowing that you've played an essential role in shaping their academic journey and future success.
3. Flexible Career Options
One of the amazing aspects of being an Abacus Trainer is its flexibility in terms of career options. You're not confined to a traditional classroom setting. Instead, you can choose to work in schools, offer personalized private coaching, or even create comprehensive online courses.
This flexibility allows you to improve your career to align with your passions and lifestyle, guaranteeing a fulfilling and balanced professional life. You can also give Abacus teacher training to candidates who wish to become trainers like you.
4. Continuous Learning
Teaching the Abacus is a journey of continuous learning. As you guide your students after Abacus teacher training, you'll find yourself going deeper into mathematical concepts, refining your teaching techniques, and exploring the psychology of learning. This ongoing education supplements your teaching abilities and broadens your horizons, making each day a stimulating and intellectually rewarding experience.
5. Build Strong Communication Skills
Effective teaching demands clear and concise communication. As an Abacus Trainer, you'll continually refine your communication skills with your Abacus classes. You will learn to explain complex mathematical concepts in simple, understandable language. Your ability to convey ideas and information clearly will not only make you an outstanding educator. Still, it will also improve your overall communication skills, proving invaluable in various aspects of your life.
6. Promote Confidence
One of the most rewarding aspects of being an Abacus Trainer is seeing a sea change of your student's confidence. Many students find maths a phobia, but through your guidance as an Abacus teacher, they will learn to navigate mathematical challenges easily and confidently. This self-assurance does not just apply to math; it fills other areas of their lives, allowing them to tackle challenges with resilience and a positive attitude.
7. Positive Impact on Students
The impact you have as an Abacus Trainer extends far beyond the classroom. You're shaping society's future leaders, innovators, and problem-solvers by cultivating a love for mathematics and instilling critical thinking skills.
Your dedication leaves a mark on your students' lives, equipping them with essential skills that will serve them well in their academic pursuits and future careers. Your positive influence creates a ripple effect, contributing to a more educated, confident, and capable society.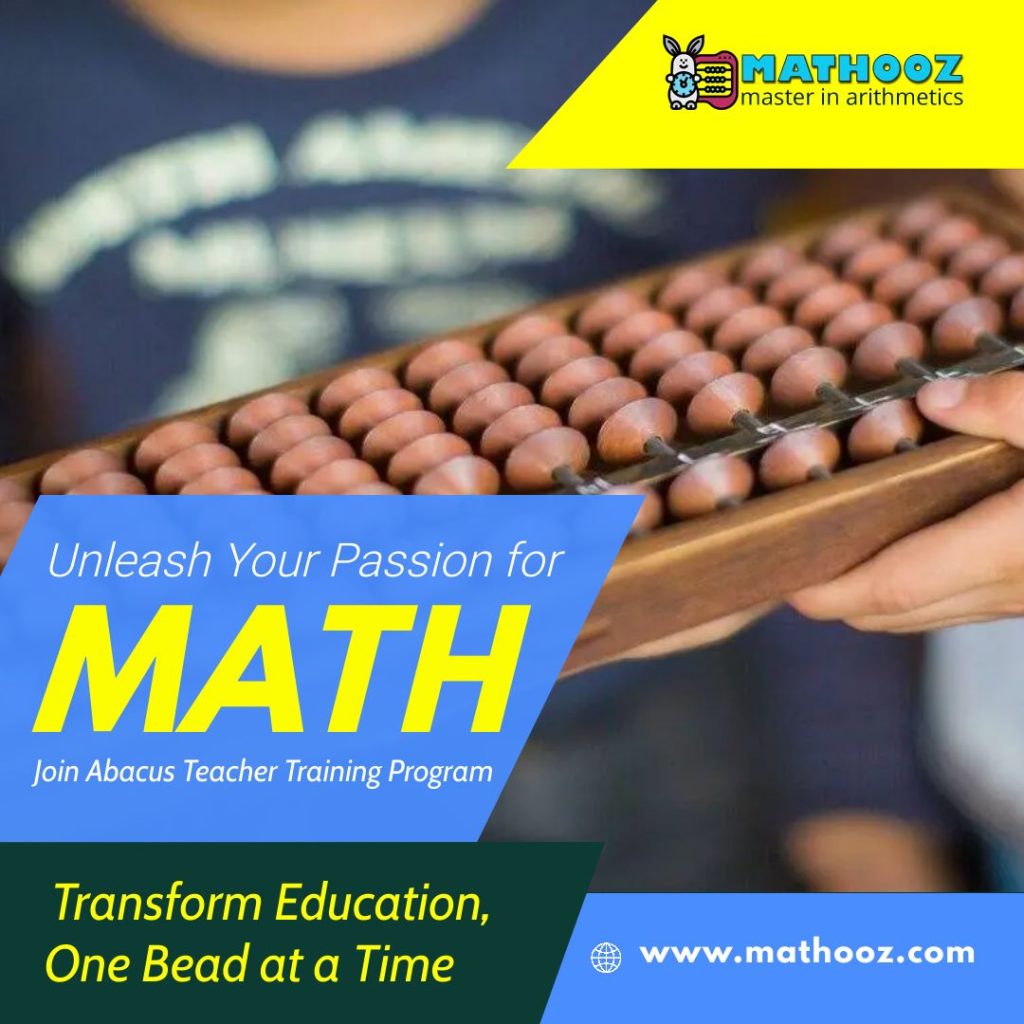 How Mathooz can Help Begin your Abacus Trainer Journey
Discover Abacus teacher training with Mathooz, where we provide a straightforward and cost-effective path to becoming a skilled educator. Our Abacus Teacher Training Course, certified by ISO 9001:2015, offers a step-by-step approach to mastering Abacus techniques.
Let us hear what Ranjani from Coimbatore says about our Abacus teacher training program.
"After finishing the Abacus Teacher Training at Mathooz, I started teaching my kids and soon expanded to kids in my neighborhood. Within two months, 20 children joined my classes. With the Team's support, I managed the classes effectively, making my Sundays fulfilling. Teaching these kids not only became my responsibility but also a privilege. Thanks to the training, I'm making a difference in their lives and mine."

Ranjani
In response to the growing demand for Abacus education and its life-long benefits for children, Mathooz offers online training that fits seamlessly into your schedule. Whether you're a housewife, a part-time worker, or a dedicated parent, our course is designed for everyone. Learn at your own pace and integrate teaching Abacus into your routine, with classes held just once a week, usually on weekends.
Join us to crack the potential of Abacus teaching. With our affordable and accessible training, you can go on board on a rewarding journey, shaping young minds and making a difference.
Start your teaching career with Mathooz today.
For further information, feel free to drop us an email at mathooztraining@gmail.com or give us a call at +91 91761 47549. We're here to assist you!
Abacus Online Classes Enquiry
Get Your Free Demo Class & Unbeatable Discount!